Property ID : Mv precore city sohna, precore city plot sector 7 sohna, DDJAY plot in sohna, mv buildcon plot sohna, ready to move plot sohna
Booking Open, Plot, Ready to Move
₹50 Lakh - DDJAY
MV Precore City Is A Modern Day Residential Township Located In Sector-7, Sohna. Sprawled Across 50 Acres Of Prime Residential Land, This Complex Provides A Living Experience Rich In Elegance And Opulence. MV Precore City Plots Sector 7 Sohna Is Equipped With The Best Of World Class Facilities And Amenities, Making Life In This Complex Supremely Comfortable. The Complex Offers A Varied Range Of Residential Plots In Multiple Sizes, Starting From 50 Sq. Yd. The Residents Get An Option Of Constructing Their Dream Homes Amidst Lavish Green Surroundings. MV Precore City Plots Sector 7 Sohna Is Located In The upcoming Residential Neighborhood of Sohna And Is Well Connected To Major Commercial And Corporate Complexes In Gurgaon And New Delhi.
This MV Buildcon Affordable Plot Project Comes Under Haryana Government Policy Named As Deen Dayal Jan Awas Yojna.
Project USP

70% Of The Area Is Covered In Landscaped Greens Adorned With Water Features, Providing An Environment Of Beauty And Tranquility

The Complex Houses A Leading Primary School

Facilities For Various Sports Including Basketball And Badminton Along With Separate Play Areas For The Kids

A 4-Star Hotel Is Present Within The Campus

Convenience Shopping Stores Within The Premises For Daily Shopping Needs Of The Residents

The Complex Houses A World Class Nursing Home Operational Round The Clock For Any Medical Emergency

Tight Security 24×7 With 3-Tier Security System Implemented In The Complex

100%Power Backup For All Areas Ensuring That The Residents Get To Experience Uninterrupted Services

Ample Parking Spaces For Residents And Visitors With Secure And Well Managed Parking Facilities Within The Complex
Total Area                   40 Acres
Total Units                 245 Units
Possession Date      Ready To Move
RERA ID                    GGM/473/205/2021/41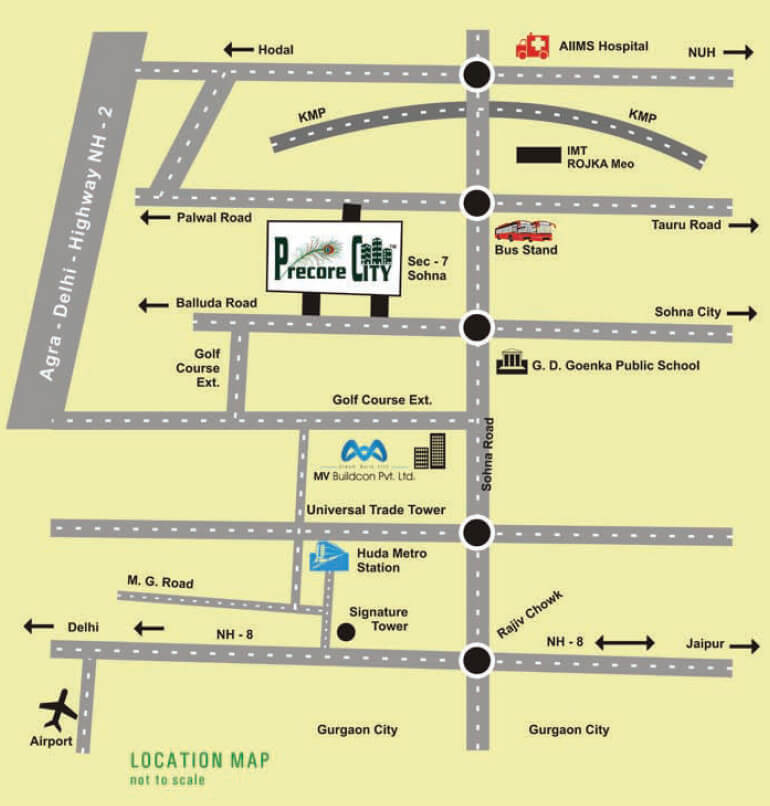 Sohna is a developing town on the southern side of the Gurugram. Splendid availability to Gurugram and the NCR utilizing National Highway-8 is the basic variable for the private development. Sohna is home to undertakings like Ram Jee Industries, Sohna Gum Industries, and so forth. Further, it is also particularly connected with a superb current home Roz-ka-Meo. Ghamroj, Damdma, Karnki, and Rasika are a part of the abutting areas.
Sohna has a splendid network of Gurugram and different town pieces utilizing the National Highway-8 and the Southern Peripheral Expressway. The Sector 55-56 metro station and the Huda City Center metro stations are available within 25 km and 27 km freely, and both can be reached through National Highway-248A.
Outstanding facilities like Jain Hospital, Vardaan Hospital, Trauma Center, Chetna Physiotherapy Clinic, and more are available inside 1Km. For quality guidance, establishments like Shiv Public Senior Secondary School, Indira Gandhi Institute of Technology and Management, and GD Goenka University-Gurugram are available inside 3 km. For a lovely shopping experience, the MGF Megacity Mall is inside 31 km.
Sohna is home to adventures like Apogee Chemicals Ltd, Rasandik Engg Industries India Limited, Roop Automotives Limited, and so forth. The Roz-Ka-Meo Industrial Estate is 6Km through National Highway-248A, which has Hyline Auto Pvt. Ltd., SRS Diecasting Pvt. Ltd. Unit 2, Continental Valves Limited, etc.
Damdama Lake, known for its sailing and pleasant environmental elements, was made by building a weir on the South Delhi Ridge among Gurugram and Sohna. It lies in the Northern Aravalli panther and natural life hall.
Lal Gumbaz of Sohna (Red Dome) and Kala Gumbaz of Sohna (Black vault) are west of the town. The 400-year-old burial chamber called Lal Gumbad is situated close to Ansal's Orchid Estate.
It is made completely of stone, the design has a 12-pillared (barakhamba) corridor in the entry arcade that is made of red sandstone delegated with a vault. Appended behind this is the principal burial chamber in stone brick work with a bigger vault, displaying half-and-half compositional styles from the Tughlaq and Lodhi periods.
Booking & Documentation
For Booking in the above-mentioned property please Call : 9211901000 | 8527100377 or Visit - Unit no. 1061-1062, 10th Floor, Spaze Itech Park, Sector 49, Sohna Road. Gurgaon