Property ID : Signature Global Park 1 Sector 36 Sohna
Booking Open, Luxury Apartments, New Launch
₹87 Lac - 2 BHK, 3 BHK, DDJAY, DDJAY FLOOR
Signature Global Park 1 – Experience luxury amidst nature's lap
Signature global park a luxurious home nestled in the foothills of the Aravallis. Immerse yourself in the tranquil ambiance of green acres under a boundless blue sky, far away from the city's pollution. Indulge in world-class amenities that are served to you in a blissfully serene atmosphere.
The premium floors of Signature Global Park 1 are meticulously designed to ensure abundant natural sunlight in each apartment. Here, living becomes an art form, where the sky is bluer, the field is greener, and every moment is filled with the essence of sunshine, fragrant wet grass, and the harmonious melodies of birds and buzzing insects. Welcome to the perfect blend of natural beauty and comfort that you proudly call home.
Project Brief:
| | |
| --- | --- |
| Project Name | Signature Global Park |
| Project Type | Residential |
| RERA No. | RC/REP/HARERA/GGM/658/390/2023/02 |
| Total Land Area | 25 Acres |
| Property Type |  Independent Floors |
| Location | Sector 36 Sohna, Gurgaon |
| Unit Type | 2 & 3 BHK |
Signature Global Park 1 (Phase2) Price List & Payment Plan:
Type-A
3 BHK+3T (1550 Sq.Ft)
Floor
Size
Price Without GST
Price With GST

1st Floor

1550

1,11,60,000

1,17,14,125

2nd Floor

1550

1,08,50,000

1,13,88,625

3rd Floor

1550

1,08,50,000

1,13,88,625

4th Floor

1550

1,19,35,000

1,25,27,875

Type-B
3 BHK+2T (1225 Sq.Ft)
Floor
Size
Price Without GST
Price With GST

1st Floor

1225

88,85,000

93,26,188

2nd Floor

1225

86,40,000

90,68,938

3rd Floor

1225

86,40,000

90,68,938

4th Floor

1225

94,97,500

99,69,313
Payment Plan

At the time of Submission of Application Form

9%

Within 60 days from booking or Clearance of 1st Payment

16%

Within 8 months from the date of booking OR Completion of Construction Milestone Listed(Whichever is Later):- (A) Excavation of 75% Plots (B) Foundation of 25% Plots

20%

Within 16 months from the date of booking OR Completion of Construction Milestone Listed(Whichever is Later):- (A)Foundation of 50% Plots (B) Ground floor of 25% PLots

20%

Within 24 months from the date of booking OR Completion of Construction Milestone Listed(Whichever is Later):- (A)First Floor of 25% Plots (B) Fourth Floor of 25% PLots

20%

Within 30 months from the date of booking OR Upon Applying for Occupation Certificate of the Unit (Whichever is Later)

10%

On offer of Possession

5%
Location advantages of Signature Global Park 1: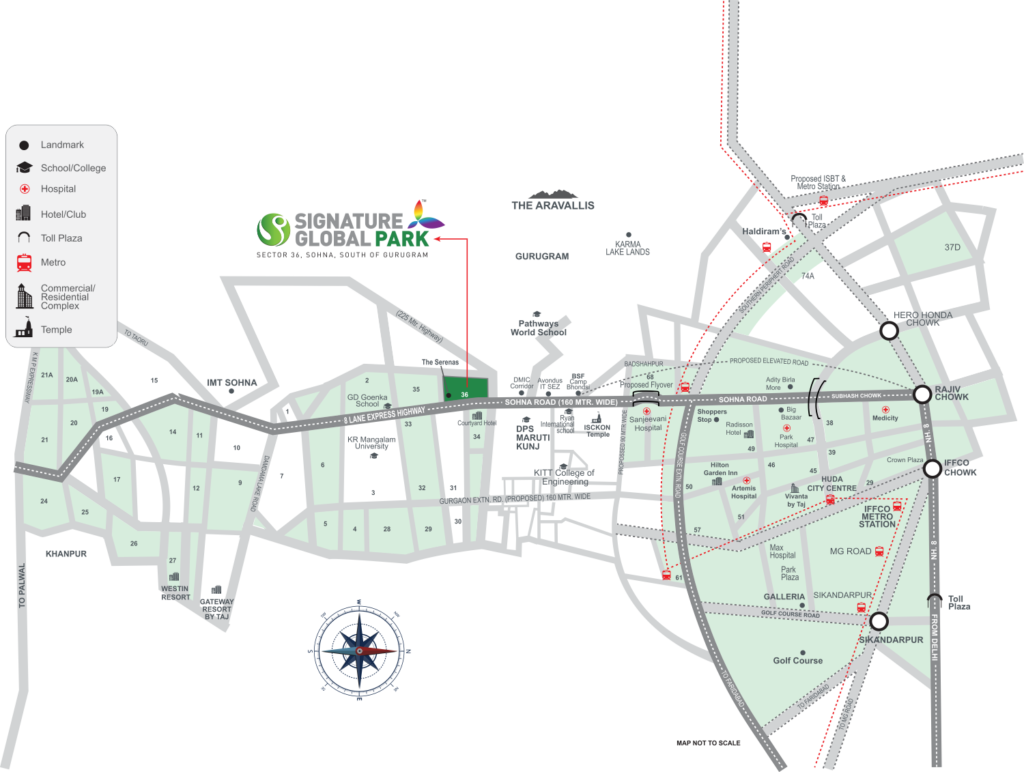 Proximity to Reputed Schools
More than six reputed schools are located within a 15 km radius, ensuring easy access to quality education for residents. This proximity saves valuable time and provides convenience for families, allowing children to receive excellent education without long commutes.
Excellent Connectivity
The Sohna Elevated Road provides seamless connectivity, making commuting to nearby areas and the city hassle-free. This well-connected road network allows residents to reach their destinations quickly and efficiently, reducing travel time and enhancing convenience.
Shopping Convenience
Residents of Signature Global Park 1 can enjoy a diverse shopping experience with shopping malls housing leading brands just 15 km away from the location. This proximity to popular shopping destinations allows for easy access to a wide range of retail options and ensures a delightful shopping experience.
Hospitality Options
With hotels within a 15 km radius, visitors and guests have a range of accommodation choices in close proximity. Whether it's for business or leisure, these hospitality options provide comfortable stays for guests, making it convenient for residents to host friends and family.
Entertainment at Multiplex Screens
Soon, 11 multiplex screens will be functional nearby, providing residents with a variety of entertainment options. This means residents can look forward to enjoying the latest movies and immersive cinematic experiences without traveling far from their homes.
Business Hubs
The neighborhood boasts office complexes and business hubs, creating opportunities for employment and professional growth. With workplaces nearby, residents have the advantage of reduced commute times and potential career opportunities within their community.
Adventure Park
An adventure park located in the vicinity offers exciting recreational activities for individuals and families. Residents can indulge in thrilling adventures, outdoor sports, and enjoy quality time amidst nature, right at their doorstep.
Serene and Green Environment
Signature Global Park 1 is surrounded by lush greenery, providing residents with a tranquil and refreshing living environment. The serene atmosphere, with its abundant green spaces, offers a respite from the hustle and bustle of city life, promoting a healthy and peaceful lifestyle.
Well-developed Infrastructure
The location features wider and better roads, ensuring smooth traffic flow and easy accessibility. This well-developed infrastructure adds to the convenience of residents, enabling seamless connectivity within and beyond the community.
Planned Development
The area demonstrates sequential and organized development of housing and commercial projects, enhancing the overall living experience. This planned approach ensures a well-balanced community, with thoughtful design and amenities that cater to the needs and preferences of residents.
Access to Essential Services
More schools and hospitals are situated near residential areas, catering to the healthcare and educational needs of residents. The availability of essential services in close proximity ensures that residents have easy access to quality healthcare and educational facilities, providing peace of mind for families.
Improved Connectivity with Key Roads
The presence of a 2 km elevated road towards Badshahpur market and an 8-km long sector road enhances connectivity to important destinations. These key roads provide convenient access to major commercial areas, markets, and transportation hubs, facilitating smooth travel and connectivity.
National Highway Access
The 8-lane, 90-meter wide road south of Gurugram, with National Highway status, provides convenient connectivity to major highways. This direct access to national highways enables residents to connect to other cities and regions with ease, making travel more efficient and convenient.
Enhanced Accessibility
Two clover-leaf junctions on the KMP Expressway further improve accessibility to and from the location. These well-designed junctions enhance the overall connectivity of the area, allowing residents to reach various parts of the city and beyond seamlessly.
Industrial and Business Opportunities
The presence of a 1700-acre Industrial Model Township (IMT) and theme hubs, including a leisure hub, sports hub, and leather hub, creates employment and business prospects. This offers residents the advantage of potential job opportunities and contributes to the economic growth of the region. The industrial and business opportunities foster a thriving economy and provide avenues for professional growth and entrepreneurship.
Gold Refinery
The world's 2nd largest Gold Refinery by MMTC is located in the vicinity, showcasing the area's economic significance. This establishment not only adds to the region's economic growth but also highlights its prominence in the precious metals industry.
Extensive Development
Signature Global Park 1 encompasses over 6,110 hectares (15,725 acres) of world-class development, including planned residential and commercial sectors and ample open green spaces. This extensive development ensures a well-balanced and vibrant community, with carefully planned spaces for living, working, and recreation.
Knowledge and Biotech Hubs
Keystone Knowledge Park and Biotech SEZ contribute to the growth of the pharmaceutical industry in the region, offering educational and employment opportunities. These knowledge and biotech hubs attract skilled professionals and provide a supportive ecosystem for research, innovation, and advancement in the pharmaceutical sector.
Signature Global Park 1 Amenities
Reserved Car Parking

Recreation Center

Parks

100% Power Back up

24 x7 Security
Signature Global Park 1 offers a plethora of exceptional amenities, ensuring a luxurious and comfortable lifestyle for its residents. The project boasts world-class facilities that cater to the diverse needs and preferences of individuals and families. Residents can indulge in the rejuvenating experience of a swimming pool, perfect for leisurely swims and relaxation. For fitness enthusiasts, there is a well-equipped gymnasium where one can engage in various workouts and stay in shape. The project also features beautifully landscaped gardens and parks, providing serene and picturesque surroundings for residents to unwind and connect with nature. Additionally, there are dedicated spaces for outdoor sports activities, allowing residents to engage in friendly matches or pursue their sporting interests.
Furthermore, Signature Global Park 1 offers a range of conveniences to enhance the everyday living experience. The project includes ample parking spaces, ensuring hassle-free parking for residents and their guests. For the safety and security of the community, the project is equipped with advanced security systems and 24/7 surveillance, providing residents with peace of mind. Additionally, there is a dedicated community center, where residents can socialize, organize events, and build strong bonds with their neighbors. With these outstanding amenities, Signature Global Park 1 creates an enriching living environment that prioritizes comfort, recreation, and a sense of community.
Signature Global Park 1 Sector 36 Floor Plan
Site Plan of Signature Global Park 1 Sohna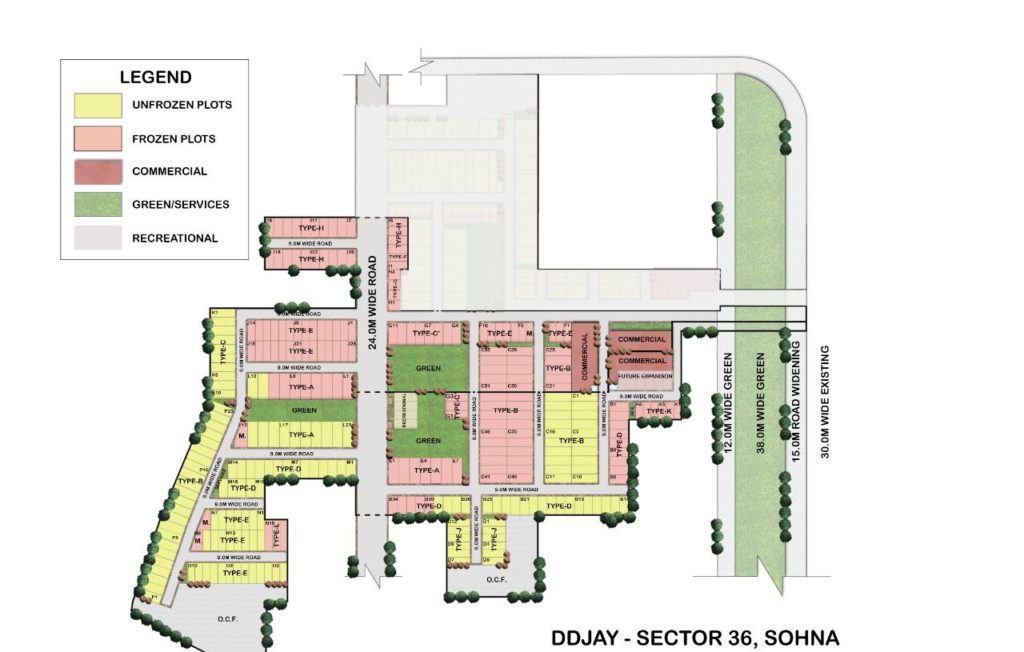 CLICK HERE TO DOWNLOAD BROCHURE OF SIGNATURE GLOBAL PARK COMBINED MULTIPAGER
Booking & Documentation
For Booking in the above-mentioned property please Call : 9211901000 | 8527100377 or Visit - Unit no. 1061-1062, 10th Floor, Spaze Itech Park, Sector 49, Sohna Road. Gurgaon