₹13,610 per Sq Ft. - Commercial
The Signature Global Signum Plaza 92, a collection of shops with a distinctive design situated in Sector 92 of Gurugram, caters to a wealthy clientele right away. The new commercial development in Gurugram, Signature Global Signum Plaza 92, is the one place where you can find everyone under one roof. Its planned location and audacious aesthetics make it the most relevant destination for varying demographics of society. With all of the most modern amenities and features, it is the most recent choice for commercial stores in Gurugram. This is the greatest choice among the recently launched commercial developments in Gurugram.
Signum Plaza 92 : Project Brief
PROJECT TYPE – SHOPS
LAND AREA – 2.7 ACRES
NO. OF FLOORS – G+2( LGF, UGF , FF )
RERA NO. – 39 of 2021
Building Usage Certificate (BUC)

 Lower Ground Floor :- 14,610/- per Sq.Ft.
 Under Ground Floor :- 14,610/- per Sq.Ft.
First Floor :- 13,610/- per Sq.Ft.
Above BUC include EDC charges
Payment Plan: Signum Plaza 92
Payment Plan :- 9:26:30:25:5:5
• Application Fee :- 2,10,000/-
• Booking Amount :- 9%
(Less Application Fee)
• Within 60 days :- 26%
• On Super Structure/12 months :- 30%
(whichever later)
• On Facade Work/18 months : 25%
(whichever later)
• On Application of OC :- 5%
• On Offer of Possession :- 5%
Special offers and Discounts
Inaugural Discount:- Rs.500/-per Sq.Ft.
Gold :- 20gm (worth 1.0L)
Credit Note :-  50k
TPR Rs.200/- per Sq.Ft.
(Applicable strictly only on timely payment of 1st demand of 26% within 60 days and it will be credited in 2nd demand as Credit Note)
Note: All above offers/schemes are for limited period only.
SIGNUM PLAZA 92 GURGAON : LOCATION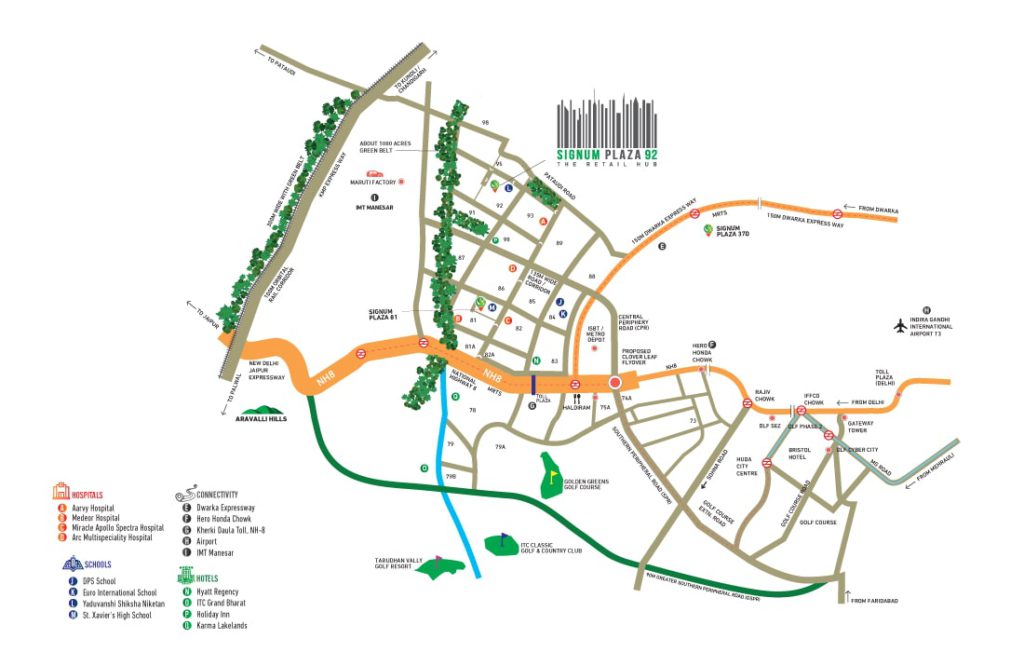 Right Next to International Airport (IGI)
Right next to NH-8
The most desirable location on the Dwarka Expressway
5 Mins to Diplomatic Enclave
7 Mins to Delhi's Largest Transportation Hub
15 Mins to International Sports Complex
Cyber City, Ambience Mall & Golf Course Road – 15 Mins
SIGNATURE GLOBAL PLAZA 92 : MORE INFORMATION
Modern office suites may be found at Signature Global Signum Plaza 92.
Sector 92's Signature Global Signum Plaza has opulent, serene commercial areas. They are roomy. These stores have a distinctive and exclusive design. Additionally, this project is the work of Signature Global, one of the best builders in the area. The team has a history of completing breathtaking projects precisely and on schedule.
The commercial project known as Signature Global Signum Plaza 92 is unique in its sort. This undertaking is lavish. The shops in this area have been given the highest care. The significance and exposure of each shop is equal. As a result, everyone has a chance to stand out and draw in more clients.
Exceptionally superior performance :
Sector 92 of Gurgaon's Signature Global Signum Plaza is the epitome of beauty. It is a high-end project that spans a big area. There is a lot of foot movement in this area. The project painstakingly satisfies all contemporary corporate requirements.
This beautiful, low-cost commercial retail project is stunning in every way.To reserve this lucrative business investment opportunity, get in touch with our team right away.
Amenities of Signum Plaza 92:
The Signature Global Signum 92 Gurgaon offers an impressive range of amenities that are designed to provide a luxurious and comfortable living experience to its residents.
Starting with leisure activities, the project offers a large swimming pool where residents can relax and enjoy a refreshing swim. For those looking to rejuvenate their senses, there is a reflexology park where they can enjoy the benefits of natural foot massage. The terrace garden is a perfect place to unwind amidst greenery and enjoy the fresh air.
The waiting lounge provides a comfortable seating area for visitors while they wait for their appointments or guests. The jacuzzi offers a luxurious and relaxing experience where residents can soak in warm water and relieve stress. The skating rink is perfect for those who love to skate and enjoy outdoor activities.
Sports enthusiasts can take advantage of the cricket pitch, basketball court, and badminton court to stay fit and healthy. The sun deck is a great place to relax and soak up the sun.
For entertainment, the project offers an amphitheater where residents can enjoy live performances, concerts, and movies. The toddlers' pool is designed for the little ones to have fun in a safe and secure environment.
For fitness enthusiasts, the project has a gymnasium with modern equipment, a yoga/meditation area for relaxation, and a jogging track to keep up with their fitness routine.
The project ensures 24×7 security with round-the-clock monitoring and surveillance. The club house is a perfect place for social gatherings and community events. The landscape garden adds to the beauty of the project and provides a serene and peaceful environment.
The children's play area is designed to keep the kids entertained and engaged. The lifts ensure easy and hassle-free movement within the project. The car parking facility is convenient for residents who own vehicles. The project also offers open spaces where residents can enjoy the fresh air and the beauty of nature. Lastly, the senior citizen sit out is a comfortable space where the elderly can relax and spend time with friends and family.
Booking & Documentation
For Booking in the above-mentioned property please Call : 9211901000 | 8527100377 or Visit - Unit no. 1061-1062, 10th Floor, Spaze Itech Park, Sector 49, Sohna Road. Gurgaon
Features