Exploring the Average Cost of 3 BHK Flats in Gurgaon
Welcome to our comprehensive guide on the average cost of 3 BHK flats in Gurgaon. If you are looking for 3 BHK flats, Gurgaon offers a lot of options. In this article, we will dive into the details of the factors influencing the pricing, the best locations, and the amenities that come with 3 BHK flats in this thriving city.
Average Cost of 3 BHK Flats in Gurgaon
As of the latest available data, the average price of 3 BHK flats in Gurgaon ranges from INR 7,000 to INR 18,000 per square foot, depending on the locality and amenities. Please note that these prices are approximate and may vary.
If you're looking for a specific project, make sure with your property manager or Real estate agent for clear figure and all details of your project.
Understanding the Market Trends
Gurgaon, also known as Gurugram, has emerged as one of India's fastest-growing cities, and its real estate market has seen significant growth over the years. The demand for 3 BHK flats has surged due to the increasing number of nuclear families and the desire for more living space and comfort. As a result, it is crucial to understand the market trends before making any investment decisions.
Factors Affecting the Cost of 3 BHK Flats
Several factors contribute to the pricing of 3 BHK flats in Gurgaon. Some of the key aspects include:
1. Location:
The location of a property plays a pivotal role in determining its price. Areas closer to major business hubs, educational institutions, and essential amenities often come with a premium. Golf Course Road, Golf Course Extension, Sohna Road, and DLF Cyber City are some of the prime localities with higher property values.
2. Builder Reputation:
Reputable builders with a track record of delivering quality projects may charge a premium for their 3 BHK flats. Their commitment to timely delivery and adherence to high construction standards attract buyers, leading to higher demand and pricing.
3. Amenities:
Modern homebuyers seek various amenities and facilities to complement their lifestyles. Gated communities with features like swimming pools, gyms, landscaped gardens, and security systems usually have higher price tags.
4. Size and Layout:
The size and layout of the 3 BHK flat significantly impact its cost. Larger carpet areas, well-designed layouts, and better utilization of space contribute to a higher price.
5. Infrastructure and Connectivity:
Good infrastructure and seamless connectivity to major roads, highways, and public transportation play a vital role in determining the value of a property.
The Best Locations for 3 BHK Flats in Gurgaon
Gurgaon offers a plethora of neighborhoods suitable for those seeking 3 BHK flats. Here are some of the top locations to consider:
1. New Gurgaon:
New Gurgaon is known for its upscale lifestyle and proximity to major commercial and recreational hubs. It boasts premium residential properties and excellent infrastructure.
2. Sector 47:
Sector 47 is a rapidly developing area with a blend of luxury and affordability. It is well-connected to key areas of Gurgaon, making it an attractive choice for homebuyers.
3. Golf Course Extension:
Golf Course Extension is an emerging locality with world-class residential projects and excellent connectivity. It is ideal for those seeking a serene and green environment.
Cost Comparison of 3 BHK Flats in Different Area
Let's now compare the average cost of 3 BHK flats in some of the popular localities in Gurgaon:
| Locality | Average Cost (INR/sq.ft) |
| --- | --- |
| New Gurgaon | 5,100 – 10,100 |
| Dwarka Expressway | 6,500 – 14,000 |
| Sohna Road | 8,500 – 11,550 |
| Golf Course Ext. Road | 13000 – 19000 |
Note: The above data is collected through 99 acres from property trend section
Please note that these are approximate values and may vary based on specific projects, amenities and localities.
Investment Potential and Future Prospects
Gurgaon's real estate market continues to show promising signs of growth. As the city evolves as a commercial and IT hub, the demand for quality residential properties is expected to rise. Investing in a 3 BHK flat in Gurgaon not only provides a luxurious lifestyle but also offers significant potential for appreciation in the future.
Gurgaon HitMap: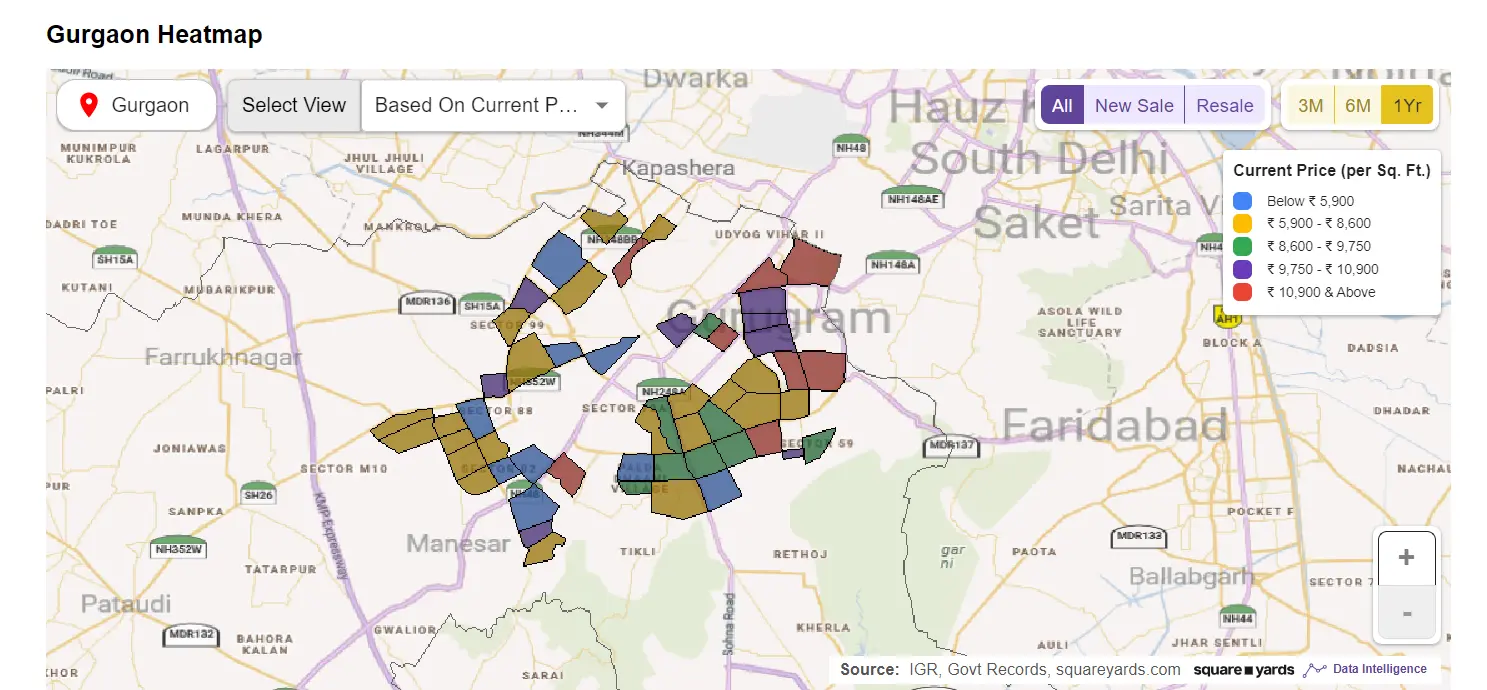 Conclusion
Gurgaon's real estate market offers a diverse range of options for 3 BHK flats, catering to various budgets and preferences. The average cost of these flats varies depending on factors such as location, amenities, builder reputation, and connectivity.
You can make an informed decision to invest in a 3 BHK flat in Gurgaon that meets both your lifestyle needs and financial goals. Meet your real estate agent to get better guidance.